Looking Back on a Historic Season in Men's Basketball
C. Hall, Staff Writer
February 25, 2022
Earlier this week, a historic Green Level men's basketball season came to an end. The team was 12-14 in a very difficult SWAC conference. They picked up important wins against Green Hope(74-60) and Middle Creek(54-52) as playoffs became a real possibility for the Gators. These wins helped secure a wildcard spot in the playoffs, and a trip to Jordan. This is the first playoff birth in the program's history! Jordan was 23-3 on the season, and came in after defeating Hillside in their respective conference. Green Level would lose, but play the Falcons close, a respectable effort against one of the state's top three teams.
This loss signals the closing of one season, but also an opportunity to look ahead into the future of the team. Green Level gave good minutes to two tall young forwards, Isaac Ericksen (F) and Trey Manhertz(SO). Isaac offers great dribbling in addition to great size, allowing him to be a mismatch against most defenders. Trey is a incredible athlete, and a force to be reckoned with in the paint on both sides of the ball. These two and more will step up to lead the team next season.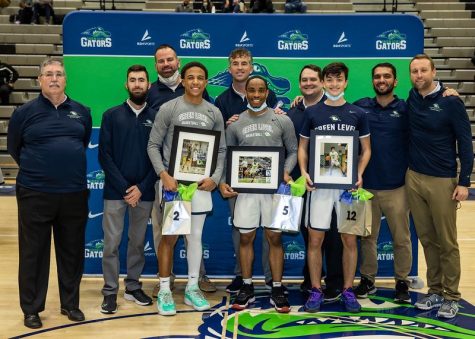 A final thank you to our seniors Tyler Coffee, Ivery Cotton-Upshaw, and Jake Brezac. I caught up with Tyler, and asked him how he would remember his time here at Green Level. "I think I learned how to bring people together as a collective team, like a puzzle. Everyone has their strengths and weaknesses. Just gotta bring that together as a team." You guys were the foundation of the program, and should be very proud of what you built. Good luck on your next chapter guys!