Madison Nereu Scores Her 1000th Point
Madison is the first in school history to hit this benchmark.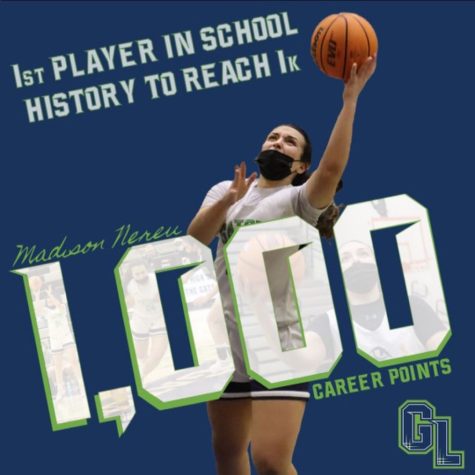 Madison Nereu, a senior here at green level, just reached an impressive milestone in her high school basketball career. Last Tuesday in a close game against Rolesville she managed to score her 1000th point, leading the gators to an impressive victory in the first round of playoffs. What makes it more impressive is that Madison was coming off of a junior season where she saw no time playing basketball due to injury. Nereu says "I tore my ACL in August of 2020 and missed my whole junior season. I worked really hard to be able to come back and even play without a brace." An incredible comeback was made by Madison this season boasting an average 15.1 points per game, and a total of 438 points scored this season. Madison was the first player to score 1000 points in the history of Green Level High School.
In an interview with Madison she says "It was a big relief to finally reach my goal and accomplish the things I set out to do. I was really happy and having my team there to support me was one of the best feelings." She looks to continue her hard work in finishing this season off strong in the playoffs. Currently the gators are in the elite 8 of the playoffs, scheduled to play Apex Friendship high school tomorrow afternoon. The gators are on an impressive streak so far and are hoping for a state championship this season. Madison says that she is excited for the upcoming game, and is happy that she was able to have such a great senior season. Best of luck to Madison Nereu in the upcoming game against Apex Friendship, and congratulations on scoring her 1000th point.