The Oscars: Best Dressed
The Oscars this year were very different, in many ways. Many of the outfits were "hit or miss". I rated this year's Oscars outfits, highlighting the best ones. (Photo images available on Vanity Fair) 
Starting off, Megan Thee Stallion wore a statement, baby blue dress. There were shimmering details hidden throughout the fabric. She paired her dress with matching, blue heels.
Lily James wore a light pink dress made by Versace. Her dress had a high slit, almost up to her hip. The seam of the slit is scalloped. Her train was short and sheer, similar to the texture of tulle. The dress consisted of a subtle, flower-like design, with sequins in some. 
Sofia Carson wore an all-black dress. It had a poofy bottom and a one-shoulder design. The sleeve was sheer and looked like it had multiple layers. She paired the dress with thick black eyeliner, a slick side part hairstyle, and many jewels throughout her accessories.
Nischelle Turner had a perfect balance between playing in safety and wearing a statement piece when it came to her outfit. She wore a bright pink dress with a sequined red and magenta purse. The fabric crossed at the top, adding texture to the dress. 
Maddie Ziegler wore a stunning, deep black dress to her first Oscars. The dress is "Italian Couture", the brand is Giambattista Valli, an Italian fashion designer. Her fans were very pleased with her appearance, one even saying she reminded her of a "goddess". 
The Haim sisters had an interesting variety of outfits. Their looks were '70's inspired, Louis Vuitton looks (styled by Rebecca Grice). They worked with Mara Rosak as she said, "'It was important that they each shined individually, but also complemented each other.'" Alana wore a beaded ivory-colored dress, with scalloped edges. Este wore a navy halter cut dress paired with a sleek hairstyle. Lastly, Danielle played it safe with a simple black pleated dress.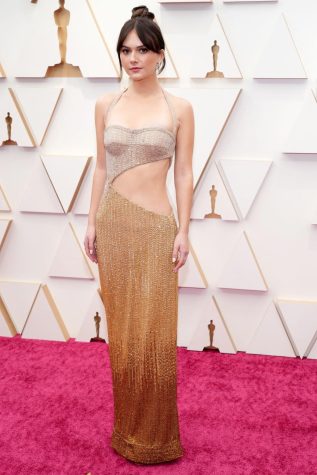 Emilia Jones wore a gorgeous, Dolce and Gabbana, two-tone dress. It had a wide, asymmetrical dress out on the side. She balanced her dress with a simple bun; showing her long bangs to frame her face.
Serena Williams killed it with her look at this year's Oscars. She wore a flowy, salmon-colored dress. It has thin, vertical pleats running down the dress. The low v-cut perfectly complemented the style. Last, the thick black roses on the neckline and matching lace gloves were the perfect touch to the look.
Like Danielle Haim, Jennifer Garner played it safe with a bright red dress. The neckline of the dress was elegant and flattering. The sleeves perfectly matched the look. Overall, her outfit was stunning.
These looks were unique and an accurate representation of new trends and styles approaching. What do you think about these looks?