Two of the biggest names in music right now have officially released their much anticipated collaboration. Drake and SZA put out their new single "Slime You Out". This is an early released song off of Drake's upcoming album "For all the Dogs" which is set to release on October 6 as of now. But, this collaboration came as a surprise to many because of Drake and SZA's past. Nevertheless, these two artists put their past behind them and created an incredible and viral masterpiece.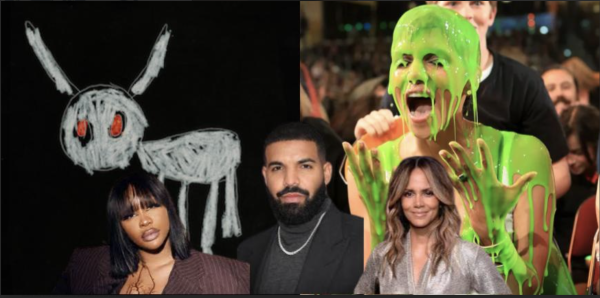 SZA and Drake's past relations were first brought to the internet in Drake's verse in 21 Savage and Metro Boomin's song "Mr. Right Now" on Savage Mode 2.
Drake says, "Yeah, said she wanna f*** to some SZA, wait 'cause I used to date SZA back in '08." SZA responded to this bar by first unfollowing Drake on Instagram only to later confirm that the two singers did have a short fling back in 2009. But, SZA was never mad about Drake's lyrics because he let her know about the bar before hand.
She even said, "But anytime he's ever mentioned me, it's always been positive. He's never said anything negative about me. I'm grateful for that. I think highly of him… He's King Drake." So, it seems as though there is no bad blood in their recent relationship. But, the two haven't stopped the press from continuing to discuss their relations and spreading conspiracies. Especially the rumored homage SZA made to Drakes song, "Marvins Room", which is said to be about SZA, in her recent verse in Travis Scott's "Telekenisis".
Although SZA and Drake have worked out their complicated history and moved forward, Halle Berry is a different story. Both Drake and SZA posted a photo on Instagram of Halle Berry completely covered in slime from the 2012 Kids' Choice Awards, to go along with the release of the song "Slime You Out". She was quite angry with Drake because she supposedly did not give him permission to post the unpleasant photo.
To start, Berry posted, "Sometimes you have to be the bigger guy … even if you're a woman!" on her Instagram. Her feelings were further discussed in the comment section when a fan asked her how she felt, she said, "Didn't get my permission. That's not cool. I thought better of him!" She continued to say, "When people you admire disappoint you, you have to be the bigger person and move on."
As of now, neither Drake nor his team have said anything specifically about Berry's comments. But, Drake did caption one of his recent Instagram posts, "I am a Hate Survivor". Could this be about Berry and her fans hating on his promotions for his new song? Regardless, fans around the world are awaiting October 6 for Drakes album "For all the Dogs" to finally release.